I honestly thought I was keeping a really clean home. I am very anal specific to having things cleaned a specific way. I want to know my house is clean and safe. Little did I realize that the cleaners I was using weren't so safe and I was actually making my breathing air worse for my family. If you have read my blog you know that not only do I have asthma but I have been having other lung issues.
I am super happy I found
Shaklee
and the natural, safe, non-toxic products. AND I found some great vitamins with Shaklee which already I am super happy to know I am building a healthy body to live in my healthy safe home! PLEASE read this is super important!
A number of studies have pointed to an association between these toxic household fumes and childhood asthma, but I'd like to focus on one particularly good study on this topic that was published recently in the European Respiratory Journal (31: 54-57, 2008).
This study measured the household chemical exposure of 7,162 pregnant women in England and looked at the incidence of asthma in their children at age 8.5 years.
A maternal composite household chemical exposure (CHCE) score was derived by measuring the pregnant mother's exposure to a number of common household products known to contain toxic chemicals.
The household products used most frequently were disinfectants (87.4%), bleach (84.8%), aerosols (71.7%), air fresheners (68%), window cleaners (60.5%), carpet cleaners (35.3%) and pesticides/insecticides (21.2%).
For information on the toxic chemicals in these and other common household products visit:
What does that mean to you and me?
It means that it is not enough to select household products that are safe for the environment.
We also need to select products that we use in our homes on the basis of their safety for us and our family

- not just on the basis of cost and convenience.
This info is from Dr. Stephen G Chaney.
Start by getting rid of ALL of your toxic cleaners in your home. Read all the labels. Are there words you can't pronounce? Are these ingredients harmful to your health?
Ask your city were you can dispose of these chemicals. Think about it, if your city has special dumping requirements for these products, then why do you have them in your home?
Replace with natural, non-toxic cleaners that will not be harmful to your health or the health of our planet.
When you use Get Clean, you're never simply cleaning. While you make your home cleaner, you can make your family healthier. You also make the planet healthier for other families as well.
Start enjoying a cleaner, healthier, greener home!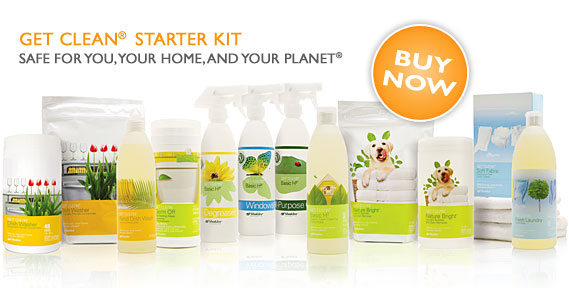 To order or for more information about Shaklee's Get Clean Line, please visit my online Shaklee Shop today!
Dr. Stephen Chaney received his B.S. Degree in Chemistry from Duke University and his Ph.D. Degree in Biochemistry from UCLA. He is currently Distinguished Professor in the Department of Biochemistry and Biophysics and the Department of Nutri- tion at the University of North Carolina where he teaches first year medical and dental students. He ran an active cancer re- search program for 37 years. He has published 97 papers and 12 reviews in peer-reviewed scientific journals as well as two chapters on nutrition for one of the leading biochemistry textbooks for medical students. He has been named "Basic Science Teacher of the Year" several times by the first year medical students and currently holds the Medical Alumni Distinguished Teaching Professorship for the period 2005 to 2009.